Fighting food insecurity one ceramic bowl at a time
The 23rd Annual Empty Bowls event was held on Feb. 23 at North Texas Food Bank Perot Family Campus in Plano, featuring music, food, art and a silent auction.
Each attendee left with a hand-made ceramic bowl as a reminder that only some have access to a full bowl.
The Empty Bowls event was previously held at the Meyerson Center in Dallas and changed venue in 2018, when the Perot family built the Perot Family Center in Plano, where the North Texas Food Bank is held.
Since 1982, the North Texas Food Bank has collected and distributed donations of surplus food and grocery products to those who need help in 13 counties around Dallas.
"The main purpose of the Empty Bowls event is to provide a fun and entertaining way of raising awareness of food insecurity in North Texas as well as the critical funds that support the North Texas Food Bank's mission to close the hunger gap," said Jeff Smith, senior manager of communications of the North Texas Food Bank.
"We owe a huge thank you to David Cramer and all the potters represented by Trinity Ceramics," Smith said.
David Cramer, Trinity Ceramic owner, is responsible for curating pieces that are the cornerstone of the annual event.
Many who regularly attend the event credit their support of the event to the mission of the North Texas Food Bank and the beauty and variety of bowls each year.
Trinity Ceramic Supply is a family-owned business for potters and clay makers that offers a wide variety of tools, supplies and raw materials for the artist crafts person interested in working in ceramics and related fields.
This year, Cramer said his company collected almost 800 regular bowls, 50 kids' bowls and 200 upgrade or sponsor bowls, in addition to 15 higher quality auction bowls.
"We have several local potters as well as high schools, community colleges and universities from all over North Texas. Including Dallas College North Lake Campus." Cramer said. The North Texas Woodturners donate around 200 bowls per year.
Jennifer Pilon, a North Lake art and ceramics professor said she has been participating with Empty Bowls since 2004, when she first moved to Texas.
She has volunteered for John and Darleen Williams, who owned Trinity Ceramics at the time and started the original Empty Bowls in Dallas 23 years ago.
Teaching at the campus has allowed her to spread the word for students to help volunteer at the Empty Bowls event.
"It has given them a chance to see how the bowls which are donated are important to the event and that people who have attended Empty Bowls for decades know the artists and appreciate the craftsmanship," Pilon said.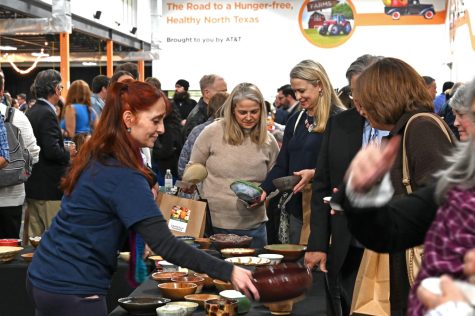 She begins collecting bowls as soon as each Empty Bowls event is over. "We collect them as soon as we possibly can for a year. So, we don't have to worry about having bowls for the next year," she said.
At least 40 were collected from North Lake this year, Pilon said. Tom Tomaro, a student, created and donated at least 20 of those bowls.
Other donors included Joanie Drefus, Gail Arnold and Jennifer Pilon.
At this year's event, Pilon took two students, Gloria Lundin and Amy Branch-Lamber, to help.
It was Lundin's first time volunteering at the general admission bowl table. "It was absolutely amazing," she said. "The generosity of people there, the way they did it so easy to donate, and the silent auction table was fabulous."
"All of our bowls were beautiful and professional," Lundin said. "I started making bowls for empty bowls since my very first year I took a class with Marty Ray at North Lake in the '90s."
However, this year was the first year Lundin didn't get a bowl in, which was why she donated her time instead. "I felt guilty," Lundin said.
"Over the years The Original North Texas Empty Bowls has raised over $3 million for those experiencing food insecurity in these challenging times," Cramer said.
That is 6.5 million meals served to the Texas community.
These events are now held in other places across North Texas including Fort Worth and McKinney.
Leave a Comment