Connecting the past with art
The North Lake Campus has featured a new exhibition "Past is Present" since the start of the Spring 2023 semester at the Art Gallery.
Fort Worth artist Michelle Cortez Gonzales' work is based on the connections she has made through memory, domestic materials and actions of labor that have connected to her culture.
The exhibit is an accumulation of work that she has done over the years.
"In this exhibition Past is Present, I was really thinking about how even through changes we are still able to filter our past of all of our ancestors throughout generations to filter our past through our present," Gonzales said.
Gonzales said the best part of working on a piece is the connections she makes with the materials and memories of her family.
"That's the most beautiful part of making the work, but I think it's also the hardest part of doing it," Gonzales said.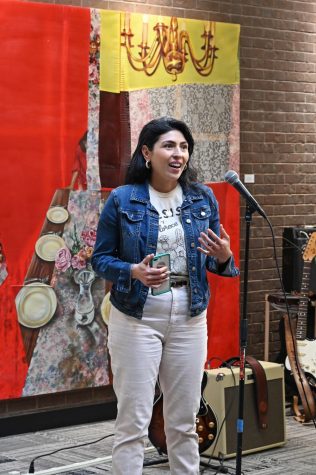 Gonzales said that making the work is very personal and a lot of emotions rise while working. While these emotions such as fear, can be negative, she uses them to create her art.
Gonzales uses many materials like lace, fabric and domestic materials for her pieces.
"One of the first materials that I did use was lace," Gonzales said. "I was really trying to figure out how I wanted to incorporate objects and materials in my work."
Gonzales realized lace has many uses throughout the world. Lace can be used to decorate but it can also be used to disguise.
One of her pieces that uses lace is also her most sentimental piece called "Confluence".
"Confluence means to join together so the lace in the piece acts as a joining but also a division from two generations," Gonzales said.
This piece features her grandmother surrounded by flowers on the left side of the piece which is split in half by the lace. The other side has a dark figure with an ambiguous face surrounded by darkness and water.
"The lace is hanging in between it also covers the figure's face on the side and I think that really speaks to covering or uncovering of identity," Gonzales said.
The piece also highlights her grandmother's hands which are meant to represent how her grandmother took care of and worked for her family.
One of the biggest inspirations of her work is her grandmother. Since she raised her, and because she is the hub of her family and cultural knowledge. Gonzales said that it makes her think about how things will stay with her even if they are not physically there.
Another piece featured in the reception is "Presence through Absence" which is in the middle of the exhibit.
The piece shows a dress laying down on the floor which represents two meanings. The dress can represent someone who has fallen but can also be seen as someone who is rooted to the ground.
Gonzales quoted poet Dinos Christianopoulos, during the reception and said, "They tried to bury us, but they didn't know we were seeds." The quote inspired the piece to help her show how if there is an intention to get rid of someone there is something positive that comes out of it.
The reception is also complimented with a video showing Gonzales hanging sheets. Gonzales wanted to embody her grandmother in the video.
Gonzales said she does a lot of research on Mexican-American and Texas history which has inspired her art.
"I think it's so important for me to relay that information," Gonzales said. "You know back in the twenties it wasn't legal to speak Spanish in public schools and I didn't know that growing up."
Gonzales said that it is important for her and the viewer to connect and engage while they are viewing a different perspective.
"I'm trying to get the viewer to look at specific pieces or different colors to ignite different memories in their own mind of their family life and their presence and their history," Gonzales said.
Gonzales thinks it is important for students at Dallas College to see this exhibit to be able to see different perspectives for students at the North Lake Campus to be able to resonate.
Gonzales went to UTA undergraduate and master's at the University of Dallas.
Gonzales said over time her process continues to change as she learns more about her family. She said that the more she learns about her culture, there are other things like resentment that change her.
Gonzales' material work has also changed as she wants to do more and explore more of her work.
Leave a Comment