On the game's first play, Blazers forward Da'Ryan Williams dunked the ball into the net with the home crowd cheering from the play.
The Blazers did not want to spoil its national championship ring ceremony with a loss.
"We played hard, and I don't think this is a game we were supposed to lose," Blazer Guard Coby Farley said.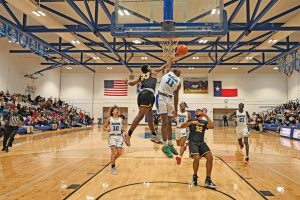 The North Lake Blazers basketball team unveiled its 2021-2022 National Junior College Athletic Association national championship rings during its season opener with a 103-50 win against Texas Wesleyan JV on Nov. 15.
"Ever since I was a little kid, I wanted to you know win a ring, win a national championship for a team, and actually doing it feels great," Da'Ryan Williams said when he received his ring.
Former players were also in attendance, not only to receive their rings but also to support the team.
This included Denise McGraw, the wife of former Blazers head coach Tim McGraw who won four national championships during his tenure with the Blazers and was in attendance to receive his ring.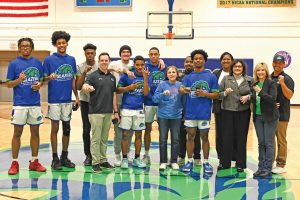 "The national championship was well deserved," Denise McGraw said.
The crowd in the gym was electric, as around 300 elementary students from local schools were present.
After the ceremony, the game started, the Blazers played two halves of the game where their performance outshine their mistakes.
Blazers head coach Josh Mills said that even though the first home game went incredibly well, the team at the time was 2-4, but the record was not deterring the team from achieving their goal of winning another national championship since the season is still young and there is plenty of time to improve.
Six players achieved double-digit points, Darion Jones scored 17 points, DeKyre Fuller scored 15 points, Da'Ryan Williams scored 13 points, Jesse Peart scored 13 points, Ryan Pondant scored 12 points and Jake Zenon had 11 points.
"I think we played really well, we made some good adjustments at half-time," Mills said. "But we just have to keep improving and get better at every practice and every game."
After the game, some players celebrated by taking pictures and talking to their family members and interacting with local elementary students who attended the game.
Blazers guard Jesse Peart said he was happy with the win, even mentioning that the crowd's support was great.
"It feels great, first home win, having all these kids, parents, teachers, and everyone that came to support us, as I said, just feels great," Peart said.
After the celebrations, every member of the current team, with some of the former players and the coaching staff, gathered to take a group photo to show off their rings.
The Blazers then went back to the locker room, where they debriefed and prepared for their next opponent, SAGUJV.
The Blazers have a overall 4-5 season, and will face Concordia College on Dec. 1.