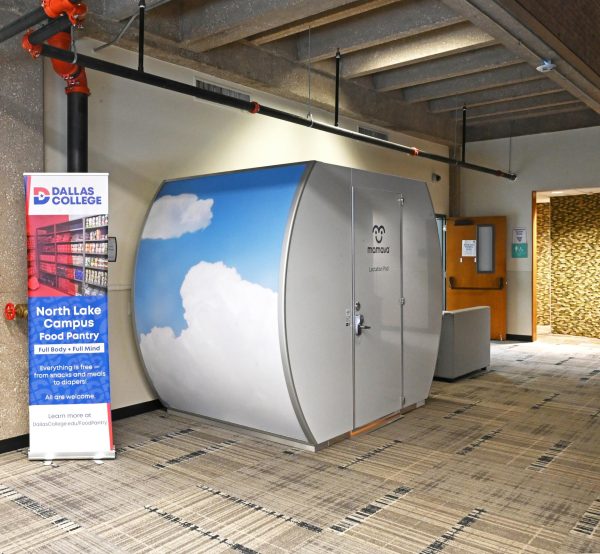 Navigating motherhood is changing for Dallas College students, staff and faculty members. 
Providing Urgent Maternal Protections for Nursing Mothers Act, or PUMP Act, took effect on April 2023. The Act address the needs of employees transitioning back to work after giving birth. It expands access to salaried workers, like teachers, to have a reasonable break time to nurse, each time they need to pump milk at work for one year after childbirth. 
Dallas College full-time employees, employed 36 consecutive months or more, may have up to four consecutive weeks of paid leave to take care of their newborn child and may then return to work as usual. 
Carlos Cruz, Associate Vice Chancellor of Well-Being & Social Support, said Dallas College is working on providing dedicated nursing rooms and a Mamava Lactation Pod at North Lake Campus, on top of the current nursing space located inside the Health Center, C200. 
Nursing parents are given a private space inside the Health Center, where they can set up their machines and pump breast milk. They have access to a kitchenette sink, bathroom and electricity plugs when the Health Center is open Monday through Friday 8 a.m. – 5 p.m.
An employee can now sue their employer under the PUMP Act if their employer fails to provide a place, other than a bathroom, for them to pump each time they must express milk. Employers have 10 days to comply after the first notification.
It is not required to compensate an employee receiving reasonable break time unless the employee is working while pumping milk. 
"Breastfeeding is kind of new but it's not new," Daphne Rodriguez, Dallas College Student, said. So, employers with 50 or more employees are having to catch up with the needs of working parents who want to continue breastfeeding their child far past maternity leave. 
Cruz said both the PUMP Act and COVID prompted Dallas College to implement the Mamava Lactation Pod.
The Student Success Division for Well-Being & Social Support, Student Success, and Dallas College Human Resources requested a lactation pod for each campus. The cost of the Mamava Lactation Pods was covered through the Higher Education Emergency Relief Funds. This was established to assist institutions of higher education to provide emergency grants to students related to the disruption of campus operation. 
The NLC pod is located next to the food pantry, A262, across the staircase leading towards the classrooms of North Lake Early College High School.
Dallas College can  utilize these lactation pods to provide a healthy and private space to pump for students, faculty and staff. "These spaces will increase our capacity to serve our student parents when  they  are nursing and ultimately provide them with a hygienic space," Cruz said.
Rodriguez said,  "As an adult, do you eat in the bathroom? No. So why do we expect mothers to nurse in a bathroom? Like it's unsanitary, it's nasty. That's where people [deleted expletive], you know." So, Rodriguez is happy Dallas College is working on providing the lactation pod at NLC, as a place for students to lactate away from the public eye. 
She said being a mother is one of the hardest things she experienced in life, despite having served in the Marine Corp.
It was stressful for Rodriguez to keep up with her breastfeeding schedule, eat healthy to lactate, wear breast pumps, make sure her baby was healthy and take care of her own mental health, all while also ignoring the parental judgements of other people. 
As of Sept. 21, the $25,000 extra-large lactation pod is missing a privacy screen on top its roof.
Cruz said, "They are not online yet, as we are waiting on some privacy screens for the lactation pods that were not originally sent with our order." 
Dallas College will be launching a campaign once the Mamava Lactation Pods are fully installed to run as designed. 
Currently, the NLC pod is accessible online and may be unlocked by downloading the Mamava Lacation App.
Rebecca Tuerk, Senior Director Employee Relations at Human Resources, said: "HR is not in charge of overseeing the pods.  I work collaboratively with Facilities and Students Services to ensure we have lactation spaces for nursing parents."